Skip to main content

Welcome!
Research data management concerns the organization of data, from its entry to the research cycle through the dissemination and archiving of valuable results. It aims to ensure reliable verification of results and permits new and innovative research built on existing information.

Additionally, research data management is part of the research process and aims to make the research process as efficient as possible in order to meet expectations and requirements of the university, research funders, and legislation.
This is the DataONE Data Lifecycle. It identifies the phases that research data goes through throughout a typical research project. FSU Libraries staff can provide you with resources and information about managing data throughout this life cycle.
Public Access Mandates and DMPs
In 2013, the director of the White House Office of Science and Technology Policy (OSTP) issued a memorandum to the agencies under their jurisdiction directing that the results of publicly funded research (including data) be made publicly available. For most agencies, this means that grant applications must include a plan for how data will be managed during and after the proposed project.
The Scholarly Publishing and Academic Resources Coalition (SPARC) has compiled a list of public access requirements by funding agency. Use this list to find the most up to date information related to your agency's requirements.
Browse Article and Data Sharing Requirements by Federal Agency (Future and current sharing policies.)
Research Funder Data Sharing Policies (List of data sharing policies.)
Data Management Services at FSU Libraries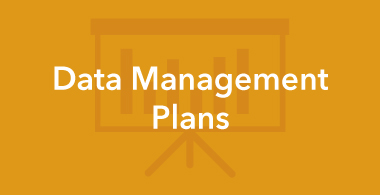 University Libraries works in partnership with other campus units, such as the Office of Proposal Development and the Research Computing Center, to provide resources and information about data management planning, data storage, funding agency requirements, data curation tools, and other options for sharing and licensing of datasets.
Learn more about data management support, email us at: lib-datamgmt@fsu.edu