Skip to Main Content
FSU Map
Florida State University Map

Are you having trouble finding the libraries on campus? Don't worry. The FSU map link above uses Google Maps to tell you the location of every building on campus. Just look at the alphabetical list below the map to find your library. Click the library's name to see it appear on the map.
Library Services
Searching the FSU Catalog to Find Books
You can use the FSU Library Catalog search function below to find available items by searching by title, author, subject, and more.
Locating Books in the Library
The libraries on FSU's campus organize books and other physical materials using call numbers. Call numbers go in order by letter and then by number. If you search for a book in our catalog, it will tell you what the call number is, what library it is in, and where to find it in that library. The range of call numbers that are on a shelf appear on a sign at the end of the shelf. Please remember that we have more than one library on campus. You do not want to search for a book in Strozier when it is really in Dirac Science Library. If you have trouble finding a book or do not know how to find a book by its call number, please ask the circulation desk for help.
Checking Out Books
Once you find a book you are interested in, you can take it to the circulation desk to check it out. The circulation desk workers will tell you when the book is due back and you will be able to keep the book until that due date.
Printing

You can print from any of computers at FSU Libraries. The link above will give you directions on how to print. Please be aware that you will need to have FSU Cash on your FSU Card in order to use our printers. If you have not printed before and are having trouble, please ask for help at the circulation desk.

Copying

There are also copiers in the library that you can use to make physical copies of documents. Like printing, you will need to use FSU Cash if you want to use the library's copiers.

Scanning

There are scanners located throughout the library that you can use to make digital copies of documents at no cost. If you need assistance using the scanners, just ask any library staff member and they will be happy to help you.
Tutoring

Tutoring is available at Strozier in a variety of subjects. Please click the link above to see a complete list of subjects we offer tutoring in. You can then select a subject to see when you can go to Strozier and meet with a tutor.
Strozier Library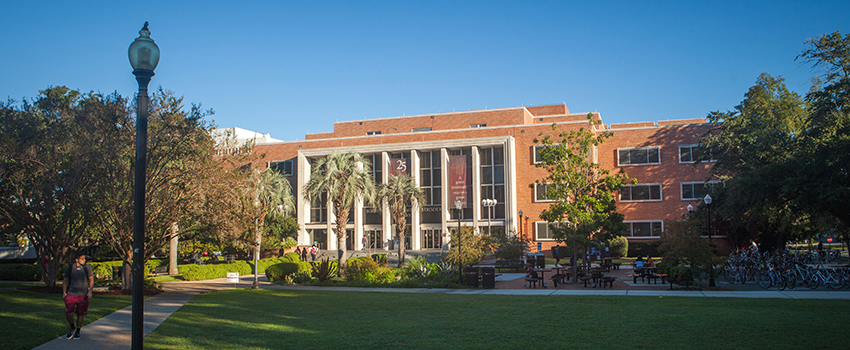 The Robert Manning Strozier Library is the main library on campus, and the one closest to the Hecht House. When you walk into Strozier, one of the first things you see will be the circulation desk, pictured below. Please ask the people at the circulation desk if you need help. They can help you find anything you need, whether that is a book, research assistance, tutoring, or just directions to the restroom!
Ask a Librarian
As long as FSU Libraries are open, you can use the Ask a Librarian chatbox below to ask our helpful staff any questions you have. Whether you need help with your research, like finding sources or making citations, or you just want to know when the Strozier Starbucks is open, we are here to answer your questions!